Houston native prepares to take barbecue scene by storm
"Pretty much your normal Texas guy" is how Grant Pinkerton describes himself. But the 26-year-old is anything but ordinary—he's been hosting tailgates since he was a student at Lamar High School and then as an undergrad at UT. Now he's back in Houston to make a name for himself in the barbecue game. He'll bring his Texas hill country-inspired recipes and rubs to a brick and mortar restaurant inside the loop within a matter of months.
Pinkerton knew he had the culinary gene when he was just nine years old and watching his father grill stakes. As the story goes, Pinkerton knew when the steaks were ready to be taken off the grill. His father declared there was "no way in hell" that the steaks were ready, but he decided to humor his son. To his surprise, the steaks were cooked to perfection. From that point on, his son took over all the cooking.
"I started smoking meat when I was twelve, and by the time I was in high school I was doing full 200, 260 pound hogs for an annual pig roast," Pinkerton explained. In high school, he was in Lamar's Future Farmers of America and raised his own animals that he later cut and cooked. Pinkerton shared that at Lamar, students could build their own barbeque pits and smoked their meat during class.
Since he studied agriculture from such an early age, he had a leg up in the barbecue game. At Lamar, he studied everything—from the many different cuts of meat to how to feed animals. This education would later help him when he chose producers, because he knew to carefully select the cuts and sources of the meat he wanted.
After he graduated from Lamar in 2007, he attended the University of Texas, where he cooked for massive tailgates, and was "always cooking barbecue on the weekends." In In 2013, he moved back to Houston from Austin, "ate some barbecue around here, decided it wasn't good enough and that Houston deserved better barbecue."
"I wasn't going to pay for any more barbecue in Houston," said Pinkerton. "I'm just going to do it myself. I can make it way better."
Pinkerton began hosting pop-up cook-outs around the city, selling food out of his trailer. His following grew quickly, until he was recognized by a group of local and notable barbecuers after reaching the finals of the World Championship Barbecue Cook-off last year. He cooked meat in his backyard and at the end of every week, gave the extras away to neighbors, family, and friends.
"When I got serious about it, I didn't want to sell any food that I didn't think was perfect. I was giving away all this test barbeque while I was testing rubs," Pinkerton said. "To this day, I will keep tweaking, and keep changing and giving meat away and seeing what people like."
The quality of barbecue depends significantly on the type of pit, fire engineering, and density of wood being used. "How dried out that wood is, how rotted it is, how green it is, how much bark it has, the shape…barbeque all comes down to the fire. The best fire crafters can make the best barbecue," Pinkerton enthused.
His favorite meat to cook is a whole hog—"briskets are too easy now"—and to cook it low and slow. "I can't give away all my secrets, but I always tell people, 'it's done when it's done,'" he added.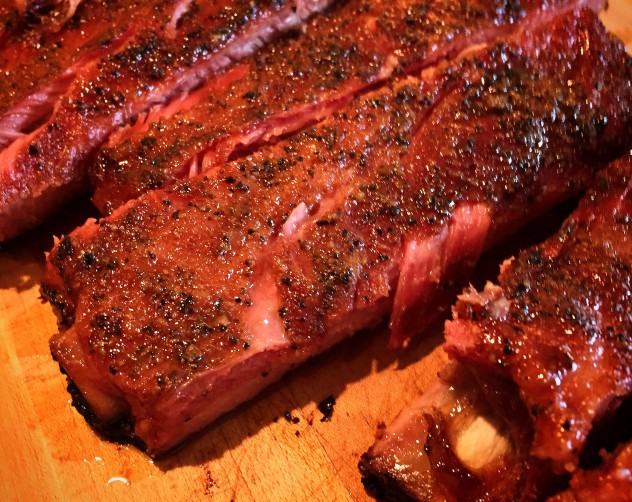 The research and development for rubs took him around a year to perfect. Being a barbecue pitmaster is full-time job. As just one-man cook with a trailer, he sells nearly 1000 pounds per week—almost as much as a full-blown barbecue restaurant.
"I think what separates me from the others is time. It's real easy to get good barbeque, but just to bump it up to great barbeque takes a heck of a lot more work," Pinkerton explained. "The hours are terrible. Some nights it's 42 hours without sleeping just cooking the meat the entire time. But you know, you gotta chase your dreams somehow."
Once the restaurant opens, he'll train an apprentice to cook the meat and gradually "build a family" in his staff. As of right now, although he gets help making the sides, he is the only one who handles the meat. "There's just some intuitive things that I do and some other pitmasters do that makes it their signature," he added.
Pinkerton doesn't plan to stop with just a barbecue joint. After his brick and mortar location opens, he plans to open another creole Cajun-inspired restaurant with a short menu.
"I want to keep the barbecue pure, and keep it at one location and grow the quantities I can serve out of there. I want to be hands-on and making sure it's perfect all the time. I'm kind of a perfectionist," he admitted.
Expect brisket, beef ribs, pork ribs, chicken, regular sausage, and jalapeno cheese sausage on his menu. Featured specials are whole hog, pulled pork, and lamb, along with "kinda weird, sort of crafty barbecue stuff" like cow cheeks, smoked oxtails, hocks, and pork shanks. Sides will include South Texas beans, jalapeno cheese rice, potato salad, coleslaw, and jumbalaya.
Describing his leisure time, Pinkerton joked, "'Like what do you do for fun?' Yeah, I cook more barbeque." In his free time, Pinkerton also hunts, fishes, and roots for the Longhorns.
Pinkerton described his love for cooking at his great uncle's ranch in Junction, Texas. He also enjoys cooking at the Houston Barbecue festival–– the one time of year where all the chop pit masters of Houston can get along for the day and not compete against each other while serving the best barbecue they can possibly make. "It's twenty-five guys that are all in the same business, who are all at the top of their craft out there, cooking and putting their food on display," he added.
When asked about how competitive the Houston barbecue scene is, he sighed and asked, "Do you want the real answer?" After assuring him I wanted no such sugar-coated answer, he responded, "It's real competitive. Everyone's trying to get a leg up on somebody else. Everyone wants to be the best. Why would you get into a business and not want to be the best?" It's a friendly scene, but each pit master is constantly striving to outdo the others.
"As with any chef, there's a lot of ego involved. That's your product that you poured your heart and soul into. It's tough when someone says they don't like it, or they like somebody better. You want to strive to make yours the best. That's what you're doing this for. You want to provide the best possible product for your customer and if that's not your mission, then you should get out of the business," he said.
"I want to make Houston barbeque great," Pinkerton said. "I want it to be like, 'Houston has this place—Pinkerton's.'"