When I was a kid, I spent many summer days on my driveway with a tub of Crayola sidewalk chalk. I'd spend hours perched on my hands and knees as I drew abstract flowers and suns and animals, and when I got older, I would draw paths down the driveway and follow these imaginary roads on my razor scooter with my sister. Some days I'd even come in with chalk-covered scrapes on my knees and palms from coloring on the concrete for so long. But the scrapes were the price to pay for the masterpiece I made each time I went outside.
I always saw drawing on the sidewalk as a fun, simple pastime, but artists can use what I thought of as an aimless activity and turn it into a unique, yet beautiful form of expression, as they always do. With just a stick of chalk in hand, an artist can transform an ordinary sidewalk into an extraordinary glimpse into their imagination. That's what Houstonian artists did on Nov. 18-19 downtown at the Via Colori art festival.
Via Colori allows artists–experienced or novice–to express themselves through simple street art. Over 200 artists, with only a few sticks of chalk and an idea, transform the streets surrounding City Hall into kaleidoscopes of color.
This year was the event's 12th year in Houston. All proceeds go towards the Center for Hearing and Speech, a local nonprofit that serves children with hearing loss. This event is really important to the organization; this year alone, over 30,000 art enthusiasts attended Via Colori.
In addition to street art, booths including Katz Coffee, Kind bars, and Kendra Scott lined Hermann Square, and some offered free samples. A stage (one of three at the festival) set up in front of the City Hall building showcased a local band performing.
The two streets that run along the sides of the building–Walker St. and McKinney St.–contained murals by over 250 volunteer artists and even a section where, for a $10 donation, children could create their own miniature masterpieces.
Another stage, 3D art, and murals by seven featured artists converged at Bagby St. behind the City Hall building. Each featured artist's mural focused on a specific decade between the 1940s to the 2000s to celebrate 70 years of the Center for Hearing and Speech. Additionally, food trucks were parked at the very back of the festival on McKinney St.
I experienced Via Colori on Sunday, Nov. 19. The clear, sunny skies and mid-60 degree weather had already lifted my spirits because Houston actually felt like fall, but when I arrived at the festival to see the gray art deco-style Houston City Hall framed with a myriad of colorful murals on the surrounding streets, I instantly absorbed the vibrancy and alacrity the festival radiated. And I wasn't the only one affected by the festival's positive vibes; everyone around me seemed to have a cheerful attitude: no babies cried in strollers, no couples bickered at one other, no children whined about cold fingers and toes in the chillier-than-normal temperatures. Everyone enjoyed celebrating art for a cause.
In true Allison fashion, I instantly spotted the Katz Coffee booth and grabbed a free cup of coffee–my very favorite drink. It served a dual purpose of caffeinating and warming me because the brisk weather chilled my fingers to the point at which my iPhone couldn't sense any heat from my fingertips.
I then meandered along Walker St. and McKinney St. to observe volunteer artist's murals. Many masterpieces depicted historical people, events, and landmarks from the latter half of the 20th century to present, which coincided with the festival's decade theme. Some artists displayed works about Hurricane Harvey and the Astros, the two biggest historical events for Houston thus far in 2017.
Lastly, I observed the featured artwork and 3D murals on Bagby St. at the end of my Via Colori experience. Each artist represented their decade from a different perspective. For example, 2000s muralist Seth Stratton chose to focus on defining moments–9/11, the creation of Facebook, the invention of the iPhone–whereas muralist of the 1940s era, Jesse Queen, spotlighted actress and inventor Hedy Lamarr. The two works of 3D art related to the time theme with an Astros-themed clock and Neil Armstrong's journey to the moon.
I particularly enjoyed observing the artists produce their chalk scenes, more so than the actual final product. So much art we view is in its final form, but we can't truly appreciate art unless we know something about the process and the effort put into a piece. Watching the evolution of a mural from a 12-by-12 square on a black-top street into a work of art allowed me to appreciate the care and concentration artists put into each shape, each stroke, each blend. Dezmon Williams, a volunteer artist who is an art teacher, values this aspect of the festival as well.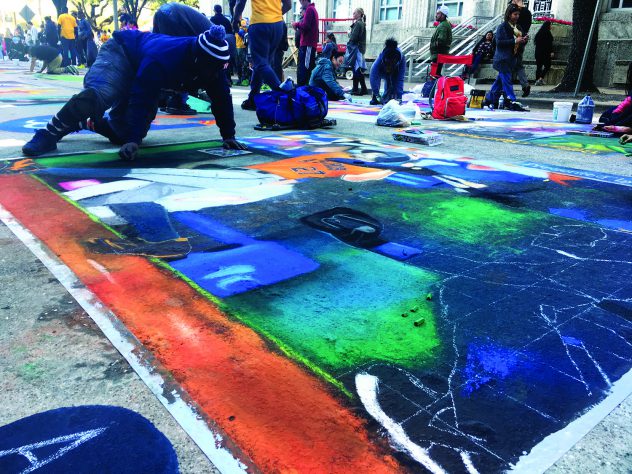 "[My favorite part of Via Colori] is doing the artwork live, so people can see your progress and the end result of your work," Williams said as we discussed his portrait of Salvador Dalí.
I benefited from attending the second day of the festival because I still saw the development of some murals as well as some completed ones. The artists with completed murals proudly stood by their work, eager to talk about their inspirations with observers.
Seeing the pride the artists had in their paintings was slightly bittersweet for me. I felt excited for the artists because they'd just completed a beautiful masterpiece, but I also felt slightly sad because the next day was Monday. Monday meant that the barricades encompassing Via Colori would come down and cars would drive over the art; the artists' canvas would become a typical busy street in downtown Houston again. The only physical sign that Via Colori happened was the colorful dust that coated the business people's tires.
Overall, Via Colori was a very enriching and fascinating experience for me. As a person who enjoys the visual arts but does not regularly practice it, I found the festival to be the perfect place for me to reflect on how art influences my life currently and how much of an influence I want art to have in my future.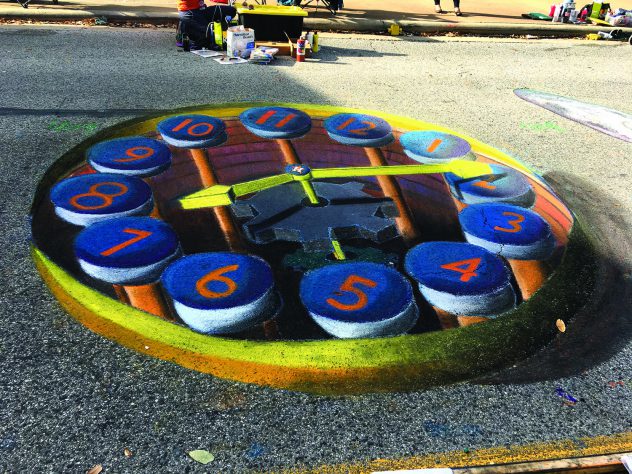 I still have the tubs of sidewalk chalk in the bottom shelf in the garage cabinet. Younger family members love to color our driveway during family gatherings at our house. But when I returned home from Via Colori, I pulled out one of the tubs of chalk and began to doodle in my driveway.