Local growers harvest, promote sustainability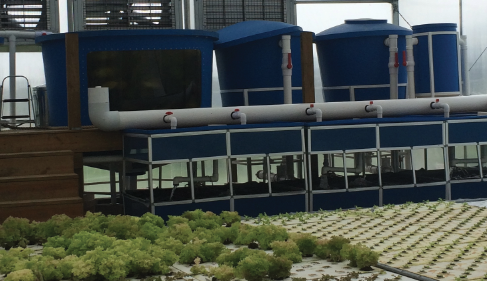 On the outside, atop gardens and green grass as far as the eye can see, sits a large typical looking greenhouse. On the inside however, this greenhouse is anything but typical. Multiple large, dark blue circular tanks on a wooden platform hold thousands of tilapia, a type of common freshwater fish. Spanning the rest of the greenhouse are rows containing Styrofoam boards floating on shallow water. Row by row, various types of lettuce, arranged by development stage, are growing on the Styrofoam. The masterminds behind this greenhouse, managing partners Matthew Braud and Andrew Alvis, graduated LSU with a dream: to make a change in the community. With hard work and innovation, they now strive through their company, Sustainable Harvesters, to follow through with their vision.
With state-of-the-art aquaponic facilities located Hockley, Texas, 45 minutes northwest of Kinkaid past Cyprus, Sustainable Harvesters educates and supplies produce to local communities. Sustainable Harvesters seeks to "redefine the way food is grown, prepared, and shipped to local communities, through aquaponics."
So what is aquaponics? Aquaponics is a form of aquaculture that cultivates the farming of aquatic animals and plants together in a symbiotic environment. It is the combination of aquaculture, which is raising fish in a controlled environment, and hydroponics, which is growing plants in a soilless environment.
So, how does this work? The aquaponics system feeds water in a fish tank that goes through piping into a hydroponic system where plants grow in water instead of soil. The byproducts of the water from the fish tank are broken down and utilized by the plants as nutrients. The water is then circulated back through into the fish tank.
"The main component is our freshwater tilapia," said Braud. "The fish create nutrient base from their solid waste, and we filter out about 75 percent of it. That 75 percent we take out, we drain directly underneath us out to compost beds to supply an extra nutrient source. So, the 25 percent that does get through [to the hydroponic system] goes down to a rock basin, which is an oxygen source for the plants and inspires a lot of beneficial bacteria that formulate and break down the fish waste. Fish waste is in the form of ammonia. Ammonia gets broken down through a nitrification cycle that passes it through ammonia to nitrite and then ultimately to nitrate. Nitrate is a nutrient base that the plants can actually take up."
The fish waste flows at about 4000 gallons per hour. At this rate, and with 3600 square feet of growth space, Sustainable Harvesters produces 3000 heads of lettuce per week. Despite the benefits of expanding to a wider variety of produce, Sustainable Harvesters choose to focus on lettuce for a number of reasons.
"We tried over a hundred different varieties of produce in general knowing that the drive for local and green was there in Houston," said Braud. "We just needed to narrow down what we could supply people and what they would want. Our product list was so in depth, but to maximize efficiency we would have to scale it down to one product, and so we chose leafy greens because it's a scalable product. It's only in this raft system for about four weeks. It's easy on the labor. It's less grooming and less pests and only four weeks from seed to harvest."
Sustainable Harvesters partners with local restaurants, grocery stores, country clubs, and anyone who is looking to add local, organic lettuce to their menu. Their partners include Krogers in the area, Houston Oaks Country Club, and restaurants like Underbelly, Oxheart, and Radical Eats. Apart from providing produce, Sustainable Harvesters is focused on selling aquaponic units as well as educating and holding classes.
"We love to share this science with people who are interested and willing to work with us," said Braud. "It really is one of the most sustainable systems you can find anywhere. We don't add a drop of anything to our water."
Sustainable Harvesters spreads knowledge about aquaponics through their page on MeetUp as a means of food production through group sessions that focus on various topics, ideas, and issues people have with aquaponics and to educate people who are interested. Sustainable Harvesters frequently host MeetUp events from greenhouse tours and training sessions, to locally grown greenhouse dinners and cocktail hours. Sustainable Harvesters also partners with schools as a way to not only spread their products and systems but also to provide school communities with sustainable, locally grown produce and educate younger generations on the future sustainable farming.
"[Aquaponics] is a great learning tool, and for a school like [Kinkaid] to be leading the way, that would be very cool, said Braud."
As for planning for future sustainability and expansion with the new land, Chef Harris said, "In addition to a rooftop garden to come on top of the new cafeteria, there [were] lots of possibilities and conversations in the works!"