Game of the season: Kinkaid Falcons beat St. Thomas Eagles in thrilling faceoff
On Sep. 10, the varsity football team was victorious in a thrilling game against the St. Thomas Eagles with a score of 48-41.
Both teams fought hard until the end, with each team down two touchdowns at one point in the game.
The Falcons started off strong, with a 14-0 lead. However, the Eagles fought back, entering halftime with a score of 28-21.
The Falcons struck first in the second quarter, tying the game. However, the Eagles scored two more touchdowns, bringing the score to 41-28. The St. Thomas kicker missed an extra point , which would end up being crucial to the result of the game. 
With one quarter remaining, Kinkaid needed to score two touchdowns. The Falcons were able to score the first touchdown rather quickly, bringing the score to 41-35. Both teams failed at later offensive attempts, and the score stayed the same for a while.
With three minutes left in the game, Kinkaid got the ball and had one last chance to score a touchdown and win the game. Using the speed and athleticism of running back brothers Dillon Bell and Micah Bell, the Falcons were able to march down the field into Eagle territory. 
With not much time left in the game, the Falcons were on their fourth down, 15 yards outside of the endzone.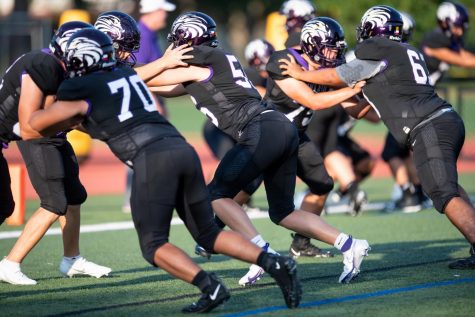 Quarterback David Capobianco took the snap and passed it to receiver Cameron Henry, who was pushed by a St. Thomas corner and dropped the ball. Referees called pass interference, giving the Falcons a first down and bringing them 10 yards closer to the endzone. 
With 20 seconds left, senior Dillon Bell ran through the Eagle defense and into the endzone. 
The crowd went wild. 
Sophomore kicker Grant Petersen nailed the extra point, giving the Falcons a one-point lead. On the last play of the game, the St. Thomas quarterback threw a pass that found itself in the hands of sophomore Nico Bell, who ended the game with a pick-six.
Kinkaid students stormed the field and celebrated with players.
"It takes grit and not playing down to your opponents to win games like that," said junior Johnny Griggs.
The Kinkaid football team will play its next game at home against St. John XXIII.