Olympic track medalist Raevyn Rogers, '14 visits Kinkaid
Raevyn Rogers, '14, strode down the track with her grandmother and waved to Kinkaid students as the school band played the Olympic theme song. 
Rogers, wearing a white dress and donning a bronze medal around her neck, is Kinkaid's first Olympian.
The school community joined Rogers in celebrating and honoring her recent win at the 2020 Tokyo Olympics on a special occasion called "Raevyn Rogers Day."
During the ceremony, which was live-streamed on YouTube for those watching from home, Rogers and Megan Watson, Olympic and Kinkaid track coach, were issued proclamations from Mr. Mark Kobelan, mayor of Piney Point, on their contributions to the city's legacy.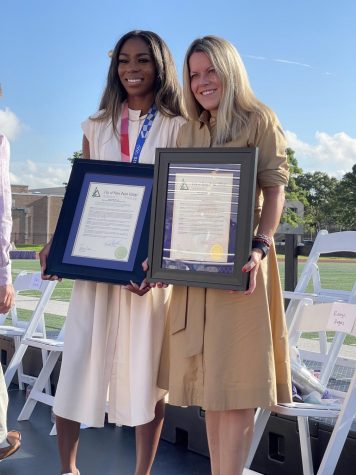 In her speech after receiving the proclamation, Rogers fondly acknowledged Ms. Cheryl Mitchell, girls' cross country head and the wellness director. Ms. Mitchell coached Rogers in track and field. 
Rogers said Ms. Mitchell has been one of the most consistent supporters in her life. 
"She's been there for me in my college and professional years. Even my new coach is like: 'who is this woman?' and I say 'don't worry. She's here for the long run," Rogers said.
Rogers' sports achievements began at Kinkaid, where she was a multi-sport varsity athlete. She still holds individual school records in the 400 meters and 800 meters.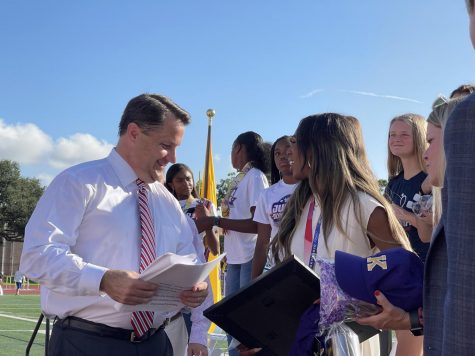 Outside of school, she earned a bronze medal in the 800 meters and a gold medal in the relay at the World Youth Championships in 2013, when she was in her junior year at Kinkaid. She went on to run on the track and field team at the University of Oregon in Eugene. 
Rogers achieved a time of 1:56:81 at the Tokyo Olympics on Aug. 3, 2021, securing the bronze medal. 
Mr. David Holm, director of athletics, announced that given Rogers' achievements in track and field, the annual Kinkaid Track Invitational will be renamed the Raevyn Rogers Invitational. 
"I look forward to returning in March to inaugurate my event!" Rogers said. 
Kinkaid's six Junior Olympians – Kevriana Scott, '22, Kennedi Poullard, '22, Catherine Gordon, '24,  London Norris, '24, Aby Deverka, '24 and Merritt Skubisz, '25 – were also recognized by Mr. Holm for their achievements in track and field as well as field hockey. 
"Every day is truly a great day to be a Falcon!" Mr. Holm said, celebrating all the athletic accomplishments of the Kinkaid community.
Rogers said that her biggest lesson throughout the process has been to not take every win or loss too seriously. 
"Some Ls are dubs. Your journey in life, in sports and in academics is all about progress," Rogers said.