Final Four Preview
[dropcap]Six[/dropcap] national titles, 2,842 career victories, and 26 final four appearances. This year's March Madness has given us a Final Four with four hall of fame coaches, Izzo, K, Ryan, and Cal, none of whom you would want to bet against in the month of March. What this tournament has lacked in Cinderella teams it has made up for in tradition and legacy.
For many of the players who will be competing this weekend, these  will be the most important games that they may ever play in. This is the fifth time that three No. 1 seeds have advanced to the Final Four, and it promises to be one of the most exciting finals in recent memory. Here is a preview for the madness that is about to unfold:
4: Final Fours Kentucky has been to in the past five years.
46: Combined number of Final Four appearances in the history of these four schools. This is Kentucky's 17th Final Four. Duke has been to 16, Michigan State to nine and Wisconsin to four.
11: Double-doubles recorded by Duke's Jahlil Okafor this season.
0: Double-doubles recorded by Okafor in the month of March.
7: Number of Teams Who Have Completed Perfect Seasons
10.8 billion: $ Value of the Contract Between the NCAA and CBS
12 billion: Worldwide $ Wagers on the NCAA Tournament
1 in 9.2 quintillion: Odds of making a perfect bracket
 Kentucky: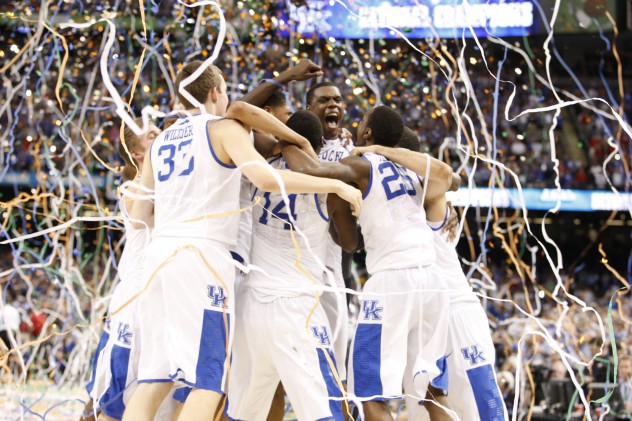 With the game clock running down to zero, Kentucky guard Andrew Harrison put the ball on the floor and made a quick move to his right. The arena exploded as a foul was called and he coolly knocked down two free throws, capping an unbelievable comeback in the most watched NCAA Tournament game in history. This was the first real challenge that Kentucky had faced excluding their own teammates. Notre Dame outplayed them for all of 37 minutes, but the depth and skill of the Kentucky roster once again came through in a thrilling game that set the tone for the weekend. Only one player under 6'6" has scored for the Wildcats this postseason and they are the overwhelming favorites to return to Lexington as champions.
Duke: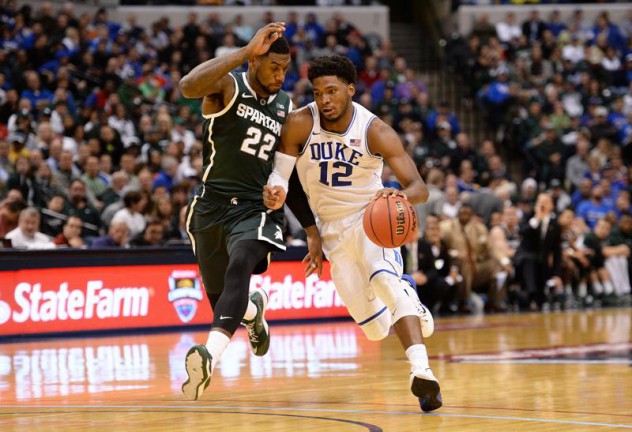 In St. John's product Justise Winslow's return to Houston, he dominated, averaging 19 points and 8 rebounds while also coming away with a highlight reel of defensive plays like this…or this. Winslow and the other Duke freshman have picked up the slack on a team that has only eight scholarship players. Coach 1K's team will face off against Michigan St. in Indianapolis for the second time this season after Duke won the first matchup. They will need a huge contribution from star center and Wooden Award candidate Jahlil Okafor, who has been uncharacteristically quiet this postseason. If Okafor can establish himself early, and the Duke guards keep up their solid play, the Blue Devils are a serious contender to win the tournament.
Wisconsin: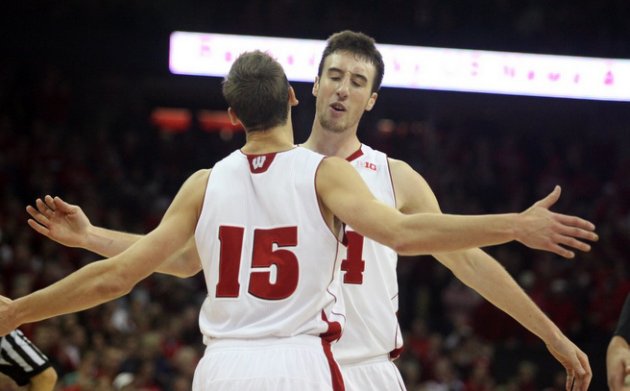 Frank Kaminsky and Sam Dekker. The fate of Wisconsin relies heavily on how well these future NBA players can continue their success. Both of them, along with guard Nigel Hayes, will be vital against Kentucky. Perimeter shooting as well as rebounding are the keys to beating Kentucky. If Dekker keeps making great plays, like this cold blooded three against Arizona then Wisconsin has a good chance to conquer the undefeated Cats in a rematch of last year's Final Four..
Michigan State: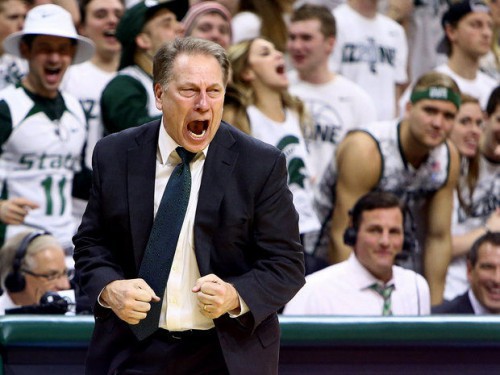 Magic Johnson's reaction says it all. When Louisville center Mangok Mathiang sent the game into overtime many people believed that Michigan State's impressive run would come to an end against the mighty Louisville Cardinals and Montrezl Harrell. The Spartans pulled through however, and are now the second straight No. 7 seed from the East region to advance to the Final Four. Last year, UConn followed the exact same path and ended up winning a national championship. Can Tom Izzo's Spartans follow in their footsteps?
All in all, this is looking to be one of the most highly contested and exciting Final Fours that I can remember. I believe that we are going to witness a Kentucky victory over Duke in a nail-biting national championship game. Next year, the Final Four is coming to Houston and promises to be even more exciting!
Featured photo by Kirk Hachigian, photos from AP Images