Clinton Takes Kinkaid; Can She Win a Divided Nation?
[dropcap]T[/dropcap]he students have spoken, and Democratic nominee Hillary Clinton has been selected to be the next president of the United States in a mock election held on Wednesday, Oct. 26. Clinton defeated Republican nominee Donald Trump by 5 votes to win 44% to Trump's 41%. This result was surprising given that Texas has a long history of voting Republican, but it does reflect recent polling that shows Texas is now a battleground state.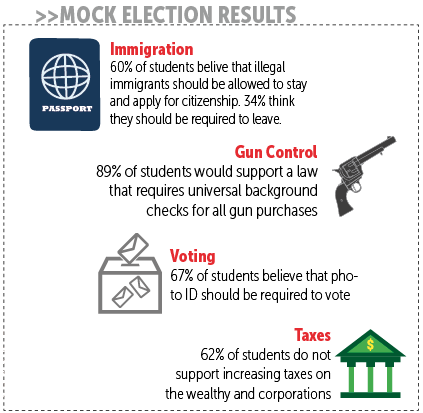 However, this election cycle has also been like no other. The success of Mr. Trump and Bernie Sanders, two anti-establishment candidates, surprised many people throughout the country as neither was considered a threat to win the nomination when primaries began last February. Both Mr. Trump and Mrs. Clinton also have record low approval ratings for presidential candidates. AP Government teacher Dr. Ed Harris described this election cycle as "extraordinarily surprising" but also "fascinating" from a political science point of view.
Much of the media coverage and attention from the campaign has not actually been on the issues facing the country, but rather the scandals and insults surrounding each of the candidates. Each debate was more savage than the last, and TV stations received almost more viewers for the presidential debates than the Super Bowl.
"We just love reality TV, don't we? We want something outrageous to happen, and unfortunately that is not to talk about cohesive energy policy," Dr. Harris said. "Quite frankly it is because people want to be entertained that the debates have panned out this way, and it is a sad commentary on the American electorate."
In each debate, Mr. Trump and Mrs. Clinton took different strategies to appeal to different voter demographic groups. Despite their best efforts, polls have shown that these acrimonious debates filled with personal insults and factual distortions in both candidates' claims have not resulted in any major shifts in support for either candidate.
"When comparing Trump's performance in the debates to Clinton's, Hillary has been a stronger performer. At the same time though, I think it's important to recognize that there's been some liberal media bias in the debates," said Vivian Liu (12), a four-year Kinkaid debater.
Voter turnout is also expected to be much lower than it has been in recent elections. Many Republicans lack enthusiasm for Donald Trump, and Democrats remain as supportive of Hillary Clinton as they were in 2012 (far lower than 2008). While Mr. Trump and Mr. Sanders were able to mobilize large numbers of voters who were dissatisfied with the current political parties, many moderate voters remain unconvinced by any of the major candidates. Charismatic leaders that can provide voters with a sense of hope and promise (John F. Kennedy, Barack Obama) lead to much higher rates of voter participation in the election.
"My greatest fear is that the way this election has gone especially in recent weeks that the reaction by voters will be one of frustration and disgust as opposed to excitement about gaining one's voice in the political process and being able to advocate change for a better future. I would hope that, if nothing else, young voters and especially first time voters see in the phenomena of Bernie Sanders and Donald Trump the possibility of making a difference and having a voice," Dr. Harris said.
Many Kinkaid seniors are looking forward to voting in their first election this year and have also been involved campaigning for presidential candidates. During the Republican primaries, Noah Pintar (12) ended up working for Marco Rubio. When Mr. Rubio came to Houston, Pintar helped his campaign with a fundraiser at the St. Regis Hotel and at a rally near Hobby Airport.
"My work campaigning has helped me further develop my interpersonal skills a lot, as a big part of campaigning is interacting with voters and discussing the issues that are important to them. I'm essentially selling a candidate to voters, so I've developed a lot of persuasion skills for sure," Pintar said.
Rylan Maksoud (12) has also been involved in the political process by supporting the Sanders campaign. However, both Maksoud and Pintar have distanced themselves from each party's nominee for president. Dr. Harris encourages students to get involved in politics by finding an issue that they are passionate about and figuring out what people represent your perspective.
"The cosmopolitan nature of Houston as really one of the most diverse cities provides all sorts of opportunities to get involved politically on a whole host of issues in a way that you really couldn't in any other city," Dr. Harris said.
One of the main reasons that Donald Trump and Hillary Clinton have struggled to convince voters to support them is honesty. An ABC poll showed that only 34% of voters trust Mrs. Clinton and Mr. Trump. To address this issue, each candidate has simply tried to persuade voters to believe that the other candidate is more untrustworthy than he/she is. For many voters including Maksoud, trust is the defining issue of the campaign.
"A president must be honest and trustworthy. That is my only required quality. Other qualifications like good policy ideas and experience are important, but they come second. If a president is dishonest, then you have no idea if they will act on their promises, what they will sell out to achieve them, or how they will enrich themselves at your expense," Maksoud said.
Because of this lack in faith of Donald Trump and Hillary Clinton, many voters have looked to support third-party candidates. However, a series of gaffes by Gary Johnson, the Libertarian nominee, including being unable to name a single foreign leader that he admires, and the extreme views of Jill Stein, the Green Party nominee, have led to many voters deciding between a "lesser of two evils."
"As of right now, I am undecided on who to vote for. Obviously the easy choice is to vote for Clinton after the egregious, despicable comments Trump articulated in the video from 2005; however, I don't feel confident with Clinton either, especially after the email scandal," Oscar Melendez (12) said.
The success of Donald Trump and Bernie Sanders in the primary elections has increased the polarization within each party and led to tougher choices for moderate voters. While Mrs. Clinton will most likely tack more towards a centrist position if elected, she has been forced to take a more liberal authoritarian stance on the issues to avoid losing the support of Mr. Sanders voters. Dr. Harris believes that in the future a third and possibly fourth party could emerge due to the divisions within the Republican and Democratic parties.
"I think there is a real likelihood that Donald Trump will stay politically involved and lead a third party movement. I see a third party championed by Bernie Sanders as an alternative to Hillary on the Democratic side as a possibility as well because people have been dissatisfied on the extreme left. Over time one could see not just a third party but a real possibility for a third and fourth party that would have traction to them," Dr. Harris said.
Mrs. Clinton has gained the support of many important voter blocs including women, African-Americans, and Latinos after Donald Trump made comments that insulted members of each group. In fact, Mr. Trump is polling lower than Mitt Romney (the 2012 Republican nominee) in every voter demographic outside of African-Americans and white men without a college education. This is most likely due to Mr. Romney running against the first major African-American candidate for President.
"His treatment of women definitely influences my opinion of him, and I think it should be a large factor for undecided voters when deciding who to vote for in the general election. And I'm not just talking about his leaked audio tapes. I'm talking about how, throughout this election and even before running for president, Trump has degraded and objectified certain groups of people. I think that's a potentially dangerous route to go down, to support a candidate like that," Liu said.
Mr. Trump is trailing Mrs. Clinton in almost every national poll and will need a big surprise on Nov. 8 to pull off an upset. Latest polls show Hillary Clinton within three points of Donald Trump in Texas. Early voting in Texas began on Oct. 24, and runs through Nov. 8. Exercise your democratic right to influence the government, and get out and vote.