From inventive food fusions to updated classics, these meals on wheels are worthy of their loyal followings. During the week, the food trucks line curbs at office buildings, catering to workers on their lunch breaks. They're a little harder to find on the weekend, as they cater private events or parties. The best way to stay informed on the whereabouts of each truck is through their social media accounts—usually Twitter, Facebook, or even Instagram.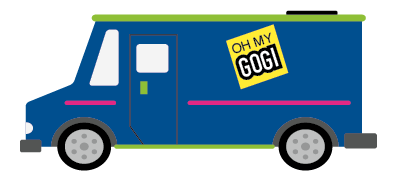 Oh My Gogi!
Korean Mexican Fusion
Most likely found on 5505 Morningside Dr. Houston, TX 77005
Hours: 9:00 p.m. to 2:00 a.m.
Don't let the "Korean Mexican fusion" part scare you away because whatever the "fusion" is, it's good. If the mass of people that always crowd the sidewalk isn't convincing, then read this: Oh My Gogi! features many different foods, including tacos, sandwiches, and quesadillas. Some of the most popular items include the ramen burger and the OMG! fries. What makes these different from your traditions burger and fries is the Korean cooked beef, spicy mayo, and sriracha. The ramen burger also swaps out a regular bread bun for a ramen bun, which needs tasted to be believed. Based on the hours, Oh My Gogi! caters more to those wanting an alternative to the "late night Whataburger run" than those who are looking for actual dinner. Whatever the reason, this truck will not disappoint.
---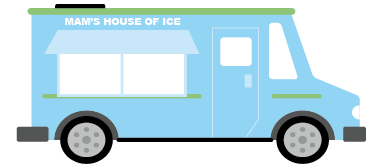 MAM's House of Ice
Snoballs
Most likely found on West 20th St. & Rutland St. Houston, TX 77008
Hours: 2:00 p.m. to 6:00 p.m.
With inventive flavors like Cajun Red Hot and Nola Bomb Pop, MAM's serves up the softest snoballs in town, with a little New Orleans flair. Complete with a white picket fence and bright blue walls, this house on wheels supplies Houston Heights with some much needed brain freezes. Over the years, the truck has become so popular that it has also opened it's own brick-and-mortar storefront off of Cavalcade, which is also in the Heights area. While it is not as physically appealing as the colorful mobile shop, it never moves and will be there all year long, even through Houston's "cold" winters because though this city may lack in snow, MAM's makes up for it in snoballs.
---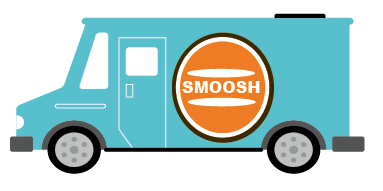 Smoosh Cookies
Custom Ice Cream Sandwiches
Most likely found on 5505 Morningside Dr. Houston, TX 77005
Hours: 1:00 p.m. to 8:00 p.m.
Armed with a killer secret family cookie recipe and a bright blue and orange truck, Smoosh Cookies has introduced a new kind of sweet treat to the people of Houston. These sandwiches are made with two warm cookies paired with the ice cream of choice (with flavors like peanut butter brownie and country apple pie), then topped off with anything from Oreos to bacon bits. The cookies range from chocolate chip or sugar cookies to specialty churro or waffle cookies (served only on Fridays and Wednesdays, respectively). Overall, these treats are ideal for the "summer all year long" type weather that Houston is used to, so if it happens to be unusually hot October afternoon, Smoosh is the place to be.