Food memories in holiday recipes, tradition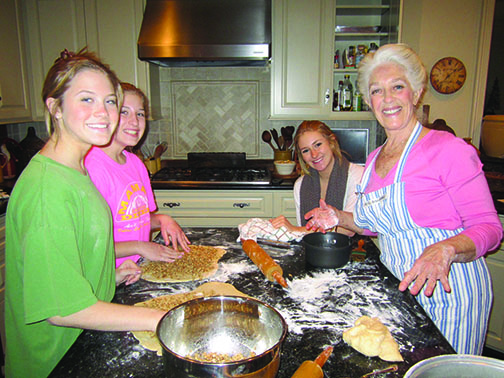 "My holiday season smells like warmth and pecans," Caroline Reid (11) explained. For the 17 years she has been celebrating the holiday season with her family, Reid has helped make and eat Pecan Tassies. Her maternal grandmother, Oma, started this tradition and has been making these miniature pecan pies for as long as Reid can remember.
Whether it be special cookies, some kind of drink, or an entire meal, families all over the community have long standing culinary traditions specifically made for the holiday season. Many of these traditions began years ago in different countries or cities. Students like Caroline Reid, Mackenzie Zarr (10), Teel Mitchell (10) and Cole Mitchell (11) enjoy these traditions and agree that a holiday season without them would be unacceptable.
Pecan Tassies are not made year round so, "we only eat them during Thanksgiving for dessert and every Christmas morning," Reid explained. She celebrates these holidays with the 14 members of her mother's family and everyone likes to pitch in with the cooking. Her Oma, her sister Madison, her cousins Nicole and Felice and herself all start making them days in advance to make sure they are ready in time. Since they make these treats from scratch, it takes hours to fully cook them. Oma has to take the time to make the dough and let it chill. Then, all the kids grind up all of the pecans and prepare the special filling made of corn syrup.
"We normally make around 40 because my family eats a lot and we like to send them home with everyone when they leave," Reid explains. Oma has been cooking these pecan tassies with her grandchildren for years. They even put them in a special pan that was given to Oma by her own mother.
Oma explains that, "they are mostly special to me because of all the memories (and pictures) I have from baking with my grandgirls through the years."
Mackenzie Zarr also shares a similar story. Her great grandmother made up a banana bread recipe that she describes as, "the best banana bread anyone will ever have (ask my friends)." Her family comes together at Thanksgiving and her and her mother help her great grandmother prepare the bread, which takes about an hour to bake.
"I always eat so much of it!" Zarr admits. She has been eating banana bread on Thanksgiving since she was born and if she didn't have it this year she would be devastated.
The Mitchell family also has a tradition of eating egg casserole and cinnamon rolls on Christmas morning. Their grandmother handed down a recipe to their mother that they have been enjoying for 15 years. Although the kids don't help Mrs. Mitchell prepare the meal, they look forward to eating it every year.
"If I didn't have it this year I would be very upset because it is a tradition our family has had for a long time," explained Teel Mitchell. They eat this meal as a family and after they finish they head over to their grandparents for lunch.
"Last year my mom burned it and it wasn't as good," Cole admitted. Although it isn't perfect every year, the siblings agree that this is a highlight of the Mitchell family holiday. This meal brings all four kids, their parents, and their grandparents together and helps them celebrate Christmas day together. Both Cole and Teel agree that their Christmas morning would not be the same without this special tradition.
"I plan on continuing to pass on this recipe for as long as I can because I love tradition," Reid said. Zarr and both Mitchell's agree that passing this tradition on to later generations is important to them.
Each of these families has their own unique traditions that help them celebrate the holiday season. The cooking of these meals or simply the eating of them brings family together and helps an older generation pass a special tradition onto the next generation.