First-ever affinity group expo held in Upper School
The first-ever Affinity Group Expo was held in the Moran Library last Thursday.
The expo was designed to increase the visibility of affinity groups and highlight the benefits of the program. It was intended to show underrepresented students the wide variety of student communities they can join.
Ms. Mujidat Shotonwa, director of diversity, equity and inclusion, said a large part of her onboarding when she joined Kinkaid in 2021 was getting to know each of the groups.
"I met with the affinity group sponsors and we thought 'What can we do to increase visibility?'" she said. "We discussed club fair and how everyone goes around and learns about the clubs… and I thought 'Why don't we do the same for affinity groups?'"
During the expo, students milled around the library checking out different booths and speaking with sponsors.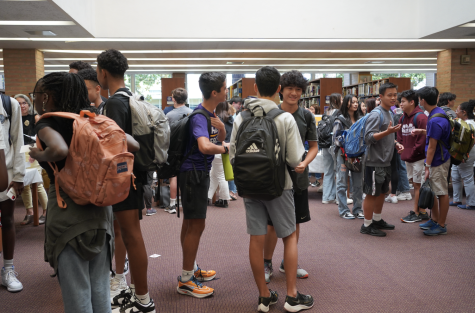 "The expo is a great chance for students to find the community that fits them best," junior Eshaan Mani said. "Being a part of an affinity group goes beyond being part of a heritage club because you can speak freely from the 'I' perspective about personal experiences with others who get you."
Debate teacher Mr. Eric Emerson, sponsor of the East/Southeast Affinity Group, was present at the expo and discussed why he feels affinity groups are important.
"I think affinity groups are a crucial space for students to have collective discussions, to share personal experiences and to affirm our differing identities in spaces that are authentic," Mr. Emerson said.
Affinity groups started in January 2021 with the goal of creating a positive and constructive context for students with shared identities to explore and affirm their experiences in and out of school.