Sharing the light: celebrating Diwali at school
The aroma of spicy samosas, lilting tunes of Bollywood music and the warm light of clay lamps fill the air each fall, as scores of Indians around the world celebrate the festival of Diwali, known in English as the festival of lights. 
The festival resides deep within the hearts of all members of the Indian community. It transcends religious and socioeconomic boundaries; in a country historically known for its caste system, it is one of the greatest unifying forces. 
To me, Diwali has always been about looking back and looking forward, appreciating all the positive moments of the past year and ushering in a new one, hoping for wellness, positivity and prosperity. Especially since the festival falls in either October or November — near Thanksgiving break — it's a great time to re-center ourselves, reflect, and gracefully move forward. 
It's also been about sharing in the vibrancy of our community. We normally celebrate Diwali with friends and family, wear new clothes, exchange trays of savory and sweet snacks and, in the late evening, light diyas, clay lamps adorned with vibrant decorations, around the house. As night falls, we light fireworks or sparklers in a symbolic show of the victory of light over darkness. 
But there's one community I've never celebrated Diwali with before. 
This year, the South Asian Heritage Club organized a feast in the Moran Library courtyard to celebrate. Members of the South Asian community brought delicacies including pakoras, spiced fritters; mango nectar; chakli, a savory snack; as well as gulab jamun and jalebi, sweets. 
Students filed into the courtyard from 7:50 a.m. to 10:30 a.m., snacking between classes. The gulab jamun, samosas and mango nectar were crowd favorites.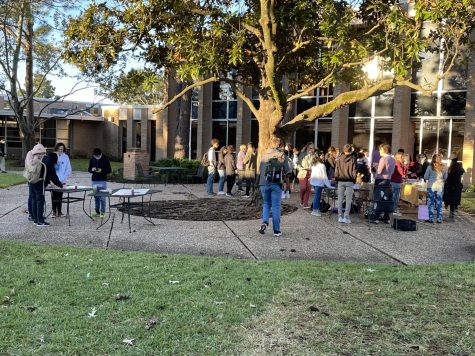 "This gulab jamun is amazing! I've had three," sophomore Will Silva said between bites.
Ms. Anjaly Thakkar, math teacher, also brought rangoli sand art powder and stencils for students to show their artistic creativity. Students made intricate designs on whiteboards, competing to see who could make the best rangoli.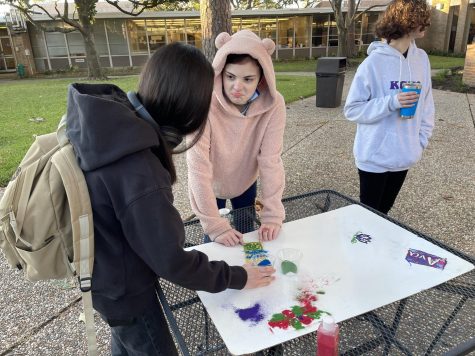 "This is so fun! I think my rangoli is by far the best," sophomore Kaveen Shah said.
I glided from table to table, explaining to passersby the names and components of the many comestibles laid out, encouraging everyone to try something new, taking photos, playing music, and chatting. For those three special hours, the spirit of Diwali illuminated the library courtyard beautifully. 
It was heartwarming to see the festival I treasure so much enjoyed by students of all ethnicities. I was, for the first time, able to teach students more about my background and the traditions I cherish, thereby sharing the light of Diwali. 
And in the end, I've realized that's what Diwali is all about: sharing the light and ensuring that positivity and happiness touch all souls in the vicinity. It's truly one of the most powerful festivals in the world.