Kinkaid Runner Competes in Regional Meet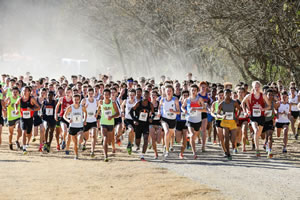 [dropcap]O[/dropcap]n November 26, the best runners from the entire Southern United States gathered in North Carolina to compete in the Foot Locker South Regional. The South Regional is one of 4 qualifying races to earn a spot in the extremely exclusive Foot Locker National Championship on December 12.
DZ Zavitsanos (11) was given the opportunity to compete in the South Regional by Kinkaid Head Coach, Ryan Gillentine. Coming into the race, Zavitsanos was prepared for a tough race, "I knew there would be some high quality competition, but I kept my head up and tried as hard as I could," said Zavitsanos.
"Going into the race, my goal was to get top 50 based on my times this year," said Zavitsanos, but things did not end up going so well for Kinkaid's star runner, finishing in the mid 200's. Zavitsanos said on his performance, "I worked to the best of my ability, but it just wasn't enough and I didn't have the best start."
"I'm going to try and use it as a learning experience," said Zavitsanos, "It was definitely a cool opportunity to go see some of the top runners in the country." After a disappointing 6th place finish in this year's SPC Championship meet, look for the 3 time All-SPC and 3 time All-South Zone runner to shine in his senior year.