Students traverse Spain's historic cities
During Interim Term, I had the privilege to travel to Spain and have an experience of a lifetime, touring the country and immersing myself in its unique culture. Excited and anxious, 17 Kinkaid students and I boarded a plane to Madrid, Spain, on Jan. 3. 
In Madrid, we visited famous art museums such as the Reina Sofia and the Prado museum. We toured the center of the city, visiting the world's oldest restaurant and walking around main streets such as Gran Via. 
We also visited nearby cities such as Toledo, El Escorial and Segovia. Toledo is a historical city known for its metalware and grand cathedral. It was a lot of fun to walk around the elevated city and eat local Spanish food such as "bocadillos" (long sandwiches) and paella.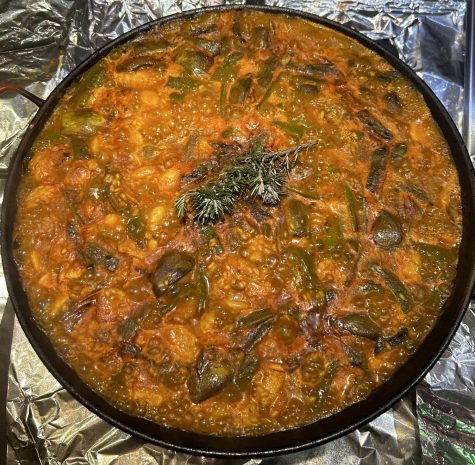 El Escorial houses a huge monastery, the Royal Seat of San Lorenzo de El Escorial, where Catholic monks used to study and where some of the Spanish royal family lived. The architecture was ornate and something I and many others had never seen before. Almost every wall inside of the monastery was painted with vibrant colors and amazing detail. The aqueduct was magnificent. Segovia also contains the castle on which Disney modeled its iconic logo, which was very cool to view. Segovia was a favorite of many of my peers.
After five eventful days in Madrid, we took a bullet train down to Seville to begin our homestay. Junior Read Liuzzi and I were paired with a very hospitable and caring homestay mom. Though the apartment was small and our room was very different from what we are used to, our food was very good and it felt like a home away from home. One difficulty was communication: Read and I are nowhere close to being fluent in Spanish, so our conversations at the dinner table were a little awkward. We had a few misunderstandings during our stay. Nonetheless, it was a unique and unforgettable experience for what it is like to live in Spain. 
Our days in Seville consisted of Spanish school from 9:30 a.m. to 1 p.m. and activities through the afternoon and evening. The school was walking distance for all students and was pretty fun. We learned a lot about Spanish culture in an engaging fashion and even had the opportunity to meet and interact with Spanish students from a local institution in Seville. 
During the afternoons, we visited sites in Seville, including the Plaza de España, Maria Luisa park; the Real Alcazar, the third-largest cathedral in the world; Las Setas, Torre de Oro, the bullfighting ring and more. We also painted tiles and took a cooking class and a flamenco dance class. 
During our final weekend of the trip, we went on an overnight excursion to Córdoba and Granada. In Córdoba, we took a tour of the mosque-cathedral and had free time to walk around the historic city. It was interesting to see the mixture of Christian and Muslim cultures and the types of architecture inside the mosque-cathedral. Then, we drove to Granada, which has a lot of historical importance as the last standing Moorish kingdom in Spain during the Reconquista. We watched a Flamenco show and visited La Alhambra, a well-preserved palace and fortress that housed high officials and Islamic rulers during the Nasrid era. 
After previous years without travel, the Spain homestay was amazing, and it was great experiencing what life is like on the other side of the world.