Junior selected to serve on Quill and Scroll student board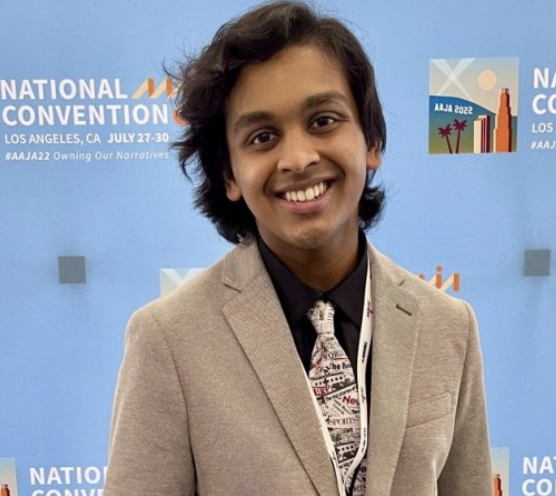 David Liu, Assistant News Editor
October 25, 2022
Eshaan Mani, a junior, was selected to serve on the national Student Advisory Board for Quill & Scroll,  an organization with charters in more than 11,300 high schools, including Kinkaid.
Mani will help plan and lead nationwide projects that promote journalistic activity. 
"The project I proposed was to document the progress of the wellness movement in schools," Mani said. "Specifically, how wellness curriculum is being implemented in schools across the country, and how kids are interacting with wellness education."
Mani is currently planning for Scholastic Journalism Week, when he plans to organize several events through several Quill & Scroll chapters. 
Besides directing journalistic projects, members of the Student Advisory Board play important roles in Quill & Scroll events. 
"Quill & Scroll hosts several conventions throughout the year," Mani said. "These conventions are a place where journalists across the country can meet up and receive special opportunities to explore their journalistic careers." 
Mani will be one of 12 members of the Quill & Scroll Student Advisory Board, which has nine new and three returning members. 
Quill & Scroll is dedicated to recognizing and encouraging student achievement in publication. Established in 1926 by pollster George H. Gallup, Quill & Scroll has since expanded from its original mission of recognizing journalistic achievement through scholarships and programs into multimedia. 
With its eight principles— truth, learning, leadership, loyalty, initiative, integrity, judgment and friendship—Quill & Scroll now produces THE SOURCE podcast, the Weekly Scroll and the Q&S magazine. 
As the founder of WellBase, a "by-students-for-students" wellness web resource, Mani also hopes to utilize Quill & Scroll resources to create a website available in schools across the country that can help promote wellness with schools. 
He encourages others to become more involved in journalism. 
"I'm so excited to serve on the Quill & Scroll Student Advisory Board," Mani said. "I hope to learn greatly from other members and pursue unique, innovative and interesting projects that can hopefully better the journalistic world."