Teams prepare for fall competitions in preseason
Falcon athletic teams are preparing for another successful season with fall around the corner, but the football team has already been through some challenges. 
Only a week into the pre-season, starting quarterback David Capobianco and sophomore Cooper Chambers, the backup quarterback, became unavailable to play due to injuries. 
"I'm sad to say that I won't return for another six to eight weeks," Chambers said. 
Even though quarterbacks have been shuffled around, players still expressed confidence for the season. 
"Our team culture and chemistry is unmatched," senior Harrison Lawrence said. "We are about to surprise a lot of people this year." 
The football team lost on a last-second play in its first 2022-23 game against Jasper High School in East Texas. However, the players said they were excited and ready for their next challenge as they prepared for their upcoming game against Tomball Christian, which is tonight.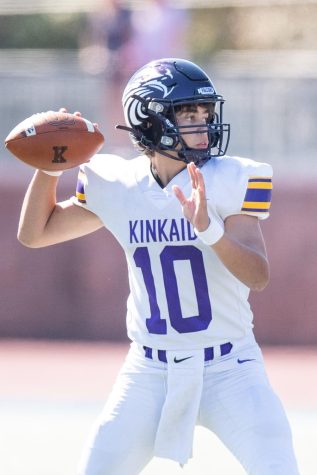 Girls' field hockey has been getting ready to compete for a second consecutive Southwest Preparatory Conference title. 
As one of the best teams in the nation, the team has seven Division 1 commits: six seniors and one junior. The girls' goal is to not only win SPC but also to beat the third- and sixth-best teams in the country. In doing so, they would become one of the top five girls' field hockey teams in the nation.
"Over the summer, we have been playing and keeping up our skills," said senior Kyle Massey, who is committed to play field hockey at Duke University. "We continue to lift, condition, and work hard and grow each day to become the best team we can be and leave a lasting legacy."
The boys' volleyball team finished last year with 10 wins and only three losses. This year, they have started off strong with wins against south zone SPC teams Episcopal, St. John's and Awty; however, they have yet to see the north zone SPC teams.
"I'm not completely sure how our team will do this year," junior Mason Howes said. "We believe that we have a shot at winning SPC, but there is good competition with the north zone SPC teams."
The girls' volleyball team has been preparing hard to improve from its prior season. 
"We established a great team culture from the beginning," junior Anna Ferber said. "We have been working tirelessly at practice to win this year and we are eager to get back on the court and show how much better we have gotten." 
They won their first game, and believe they will have a winning season this year.
Girls' cross country ended the year strong with a top-five finish at SPC last fall. The girls hope to have another good season this year. Over the summer, varsity runners went to a camp in California to build team chemistry and running endurance. 
"We had a lot of fun in California," junior Tori Livingstone said. "It was a lot of running, but that is what we need to prepare for a great season this year."
Varsity runners of the boys' cross country team also traveled to California over the summer to prepare for their upcoming season. 
Similarly to the girls' team, they bonded and improved their running times with their extra hard work over the summer.