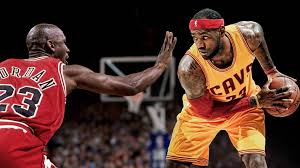 Lebron James is the greatest basketball player to touch a hardwood floor. Now, before you say, "but what about ____(insert Jordan, Kobe, Bird or anyone else you think deserves to be mentioned)," I'm going to stop you. Because no one else has constructed a body of work and impacted the world of basketball and popular culture all at once like LeBron James has done so magnificently.
Before I lay down the hard facts, let me familiarize you with LeBron Raymone James. Born to Gloria James in Akron, Ohio, he began playing basketball at a young age. Taking the high school world by storm at Saint Vincent Mary High School, he was broadcast on televisions around the country, showcasing his powerful alley oops and suave skills. He forgoed college to enter the draft at age 17 and was selected as the number one pick to the Cleveland Cavaliers. And so it began.
This piece is long overdue because truthfully, LeBron has had this title in the bag for a while now. A recent occurrence in Round One Game Five versus the Indiana Pacers confirmed my belief that James should be crowned the definite king. In this particular playoff instance, when the game was tied,  James proceeded to emphatically block Pacers' Victor Oladipo in the last ten seconds of the game before shooting a picture-perfect buzzer-beater three (since then, he hit another buzzer beater against the number one seed Toronto Raptors that he went on to sweep). Needless to say, when that ball swished through the net, I exploded. Yelling and screaming "THIS IS WHY HE'S THE GREATEST," I burst with the same thrill that has filled me ever since I began watching Lebron James play when I was 12 years old.
Shortly after his post game conference I got on Twitter and was astonished by strangers and followers alike downplaying the greatness that was just so clearly displayed. An invisible tear streamed down my face as the Twittersphere attacked James.
"He's still not the greatest," one Tweeted.
"Jordan wouldn't have been in this position to have to make a game winning shot," another said.
After cooling off a little, I decided I'd let anyone who listened know that Lebron James is the best basketball player to live on planet Earth.
A perennial battle between the greatest is often Michael Jordan versus LeBron James. I don't want to disrespect my elders, but James has the solid statistics that say he's the better player.
The GOAT (LeBron James, to clear up some confusion) currently holds playoff records in total points scored, steals, and buzzer beaters. He is number seven on the NBA all-time scorers list in his fifteenth year and shows no signs of slowing down, averaging 54 percent from the field and 37 percent from three.
In year 15 of their seasons, Magic Johnson and Larry Bird were both retired and Jordan was averaging 45 percent from the field and 29 percent from the three point line less than James' stats.
James is athletically superior to Jordan standing at 6 foot 8 inches, 250 lbs. He is a better rebounder, averaging 7.4 to Jordan's 6.2 rebounds, better passer with 7.2 assists to Jordan's 5.3 per game. And he is just as great of a scorer as well; James' field goal percentage, is 50.4 percent while Jordan is close behind with 49.7 percent. He shoots a better percentage from the three at 34.3 percent to Jordan's 32.4 percent. The only thing Jordan leads him in is free throw percentage leading James by 10%. He's also a more versatile defender and offensive player – he can guard any player in any position on the court.
Another argument is that James' path to the finals is always easy and that in the good ole days of basketball he would have been average. And to that, I say blasphemy. While we're talking about cakewalks, let's talk about who MJ faced in the championship. His first year he faced a broken down Lakers team without two of their best players and with Magic Johnson post HIV diagnosis. The next year he went up against the Portland Trailblazers with solely Clyde Drexler.  In his first finals, James lost to a team with three future hall of famers: Tim Duncan, Manu Ginobili and Tony Parker. And the Warriors, a team he's fallen to twice in the finals has at least two future Hall of Famers in Steph Curry and Kevin Durant (not to mention he beat a Warriors team with the best record in NBA history). Jordan never faced more than two in the finals.
Also, after Jordan left to pursue his lifelong hobby of baseball, the Chicago Bulls won 56 games, only two less than when Jordan was on the team. But after James left the Cavs in 2010, they went from winning 63 games to 19. Only 19 games. The Cavaliers were hot garbage after Lebron James left, further proving his greatness that took them to multiple finals.
However, people try to diminish the work James has done in championships, since Jordan has six championship rings. But  if rings alone were the indicator of GOAT status, then Bill Russell would be the greatest ever with 11 championships won. And people seem to forget that championships are won by teams not merely one man. If that weren't true, Russell Westbrook, who has averaged a triple double for two seasons in a row, would have at least one championship by now.
Lebron has not only impacted the sports world through his dynamic play but also through his philanthropic and social work. In his spare time, James donated $41 million dollars to send 1,100 Akron kids to college, and he is in the process of building his own school for at-risk children in Akron, Ohio while still finding time to comment on issues like racial injustice and inequality. He is a superb role model; James has never been arrested, never been accused of cheating on his wife, and never doped or cheated; his greatestness has not been tarnished. It's the purest of his form.
I would argue taking advantage of  witnessing utter greatness of a player at his peak, breaking his own records at full steam. One who didn't take a break from basketball to play in the minor leagues, one who hasn't always been supported by Hall of Famers and is still succeeding: An honorable man, unblemished and unstoppable.