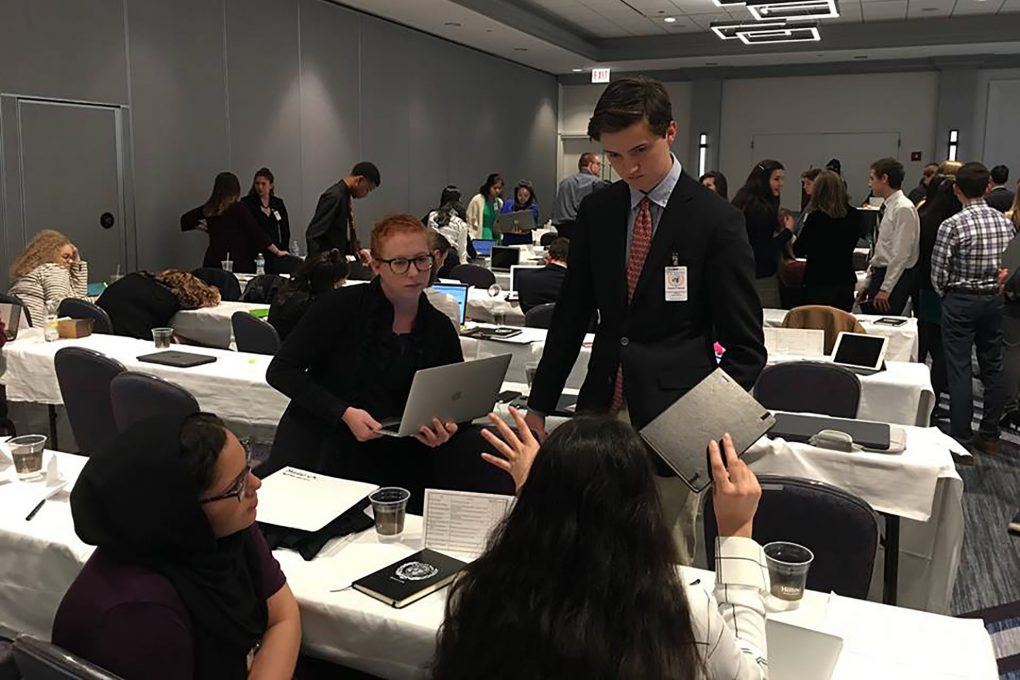 From Nov. 30 to Dec. 3, 13 members of Kinkaid's Model UN club competed at an international conference in Chicago, Ill. Although they spent most of their time in committees, they also explored many of Chicago's highlights.
To most students, the activities at a Model UN conference are somewhat mysterious. Many picture large scale debates with students dressed in formal attire bantering back and forth about pressing modern topics. In reality, this does happen, but on a smaller scale with students working closely together to understand differing opinions on a subject matter.
When students prepare for a Model UN conference, they begin with a person or a country they will represent in a committee. Each conference has their own unique committees with a specific focus. After being assigned a committee, participants research their committee's topic to write a position paper that explains their point of view on the topic.
When they arrive at the conference in their small group committees of about 20 to 150 people, students begin debating and forming alliances with the other committee members during their first session. These alliances will shape their eventual perspective that is woven into a resolution that presents a proposal on how to handle the issue.
In addition to committees that focus on modern issues like education and the shortage of clean water, there are also committees dedicated to historical issues. These committees require students to recall the policies of their assigned countries from prior decades and debate solutions on the basis of those policies. This process also serves as a great form of practice for students to improve their understanding of current global news.
"I think Model UN provides a lot of practice with public speaking, research, and strategic thinking. One of the goals is being successful with diplomacy, and this reinforces global citizenship and awareness," said Ms. Tamasine Ellis, one of Kinkaid's Model UN adviser and a history teacher.
During the first day of committee meetings, Kinkaid students spent upwards of 9 hours debating topics and voting within their committees. In between their long committee meetings, students had opportunities to get out of the hotel and walk around Chicago. These long days served as a learning experience for many of the newer Model UN members; however, senior, Anish Odhav used his past experiences to guide his work in the crisis committee. As a participant in a crisis committee, instead of working to forge alliances, he strategically planned to protect his country.
"It means hours of military strategic planning, secretly attempting to sabotage others around the table using your personal powers, and drafting legislation while still attempting to run the country you are supposed to be defending," Odhav said.
Not only are the goals and strategies of crisis committees slightly different from general committees, but also their topics tend to be more pressing. Most often crisis committees include a midnight session.
"People come banging on your door between 12-2 AM and you have to report to a two to three hour long committee session to address a crisis. Crisis committee sessions are generally created to simulate historical wars, and these crises are usually always bad news," Odhav said.
Odhav was awarded honorable mention for his hard work and extensive research in his committee. Typically only three people are chosen for honorable mention out of groups consisting of up to 150 people.
The conference planned to host a delegate dance at the end of the conference to celebrate and reward the hard work the students put in over the weekend. However, there was a threat to the dance on the anonymous app for the conference, Jodel, that caused the event to be canceled. After the cancellation, they were closely monitored by the Chicago Police Department stationed in their hotel, and they had a modified curfew moved up from midnight to 10.
On Sunday they ended their conference with their final committee meetings and an awards ceremony to recognize their hard work. Odhav was the only Kinkaid member to recieve an honorable mention.
"I really enjoy watching a new student trying [Model UN] and really succeeding. This year a lot of new members have been successful. I have seen that they have learned a lot of policy and become far more engaged in current events," Ms. Ellis said.
Although Odhav was the only student who won an award, many of the club members are new to Model UN, and took advantage of this conference as an opportunity to learn.