Art piece asks viewers for feedback
[dropcap]S[/dropcap]culptures stand and paintings pop against the white and beige walls left and right through the halls of the Student Life building. Just last week, on Tuesday, Mar. 31, a new painting appeared outside Dr. Trusty's office. Roughly 3×3 and largely black and blue, the canvas was painted with geometric lines, small messages, and other details.
Along with this painting, there is a large white envelope hanging next to it. On this envelope, a note addresses viewers, "Please leave feedback. What do you think this painting is about? Constructive criticism greatly appreciated! Thanks! – Sydney Krantz." Students who have taken the time to look at the painting have responded and reacted to it in various ways.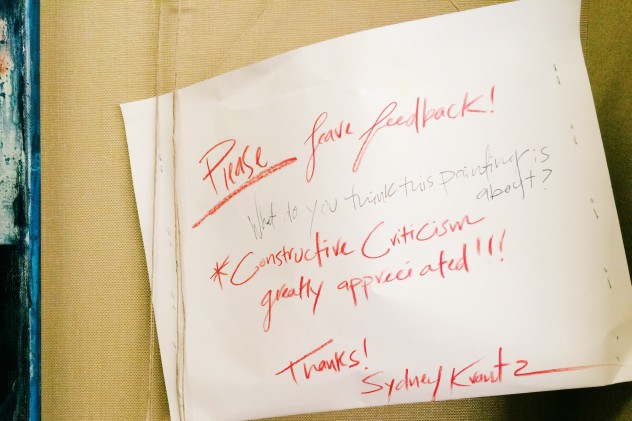 "This is the first time that I have seen any piece of art in the halls have an envelope for feedback so I think that is what makes it very interesting and unique. It's kind of interactive in a way, I liked getting to write a note for Sydney to express how great I thought it was," said Morgan Vicknair (11).
As it turns out, these positive reactions, while welcome, are not exactly what Sydney was looking for.
"I was hoping to get some constructive criticism that would help me decide whether I needed to add anything else to the piece," said Krantz (11), who created the piece in her Drawing and Painting class with Mrs. McMillan.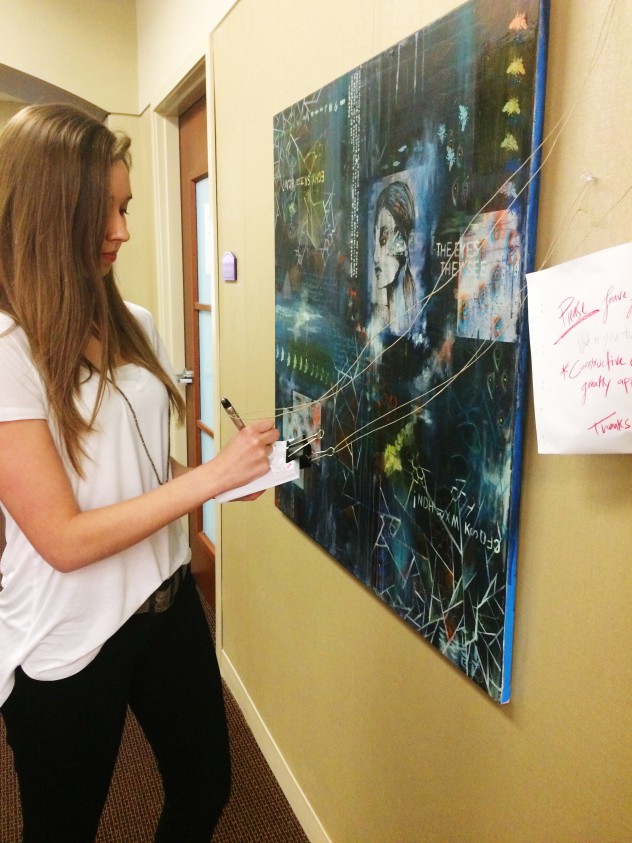 "I was also hoping people would comment about what they thought was about. It's always interesting to see if your ideas translated to the viewer or if they saw something completely different than what you had expected. So far I have gotten a few comments, but mostly just things like 'cool!' and 'I like it!' which is obviously really nice to hear, but it wasn't exactly what I was looking for when I put the envelope out. I feel like people thought I put it up to collect compliments and I'm like no! I'm really just looking for ideas."
Krantz has sought feedback throughout her process of painting this piece, but after finally putting her brush down, neither her nor Ms. McMillian nor Mr. Suber could decide whether or not they thought the piece was finished.
"Because I have been looking at it and working on it for so long, I thought it would be cool if I could get some fresh opinions from people who haven't been looking at it every day for months," said Krantz. "It's hard to figure out when a piece like that is done since its not like of anything… I could always add more color or more designs or whatever, but at some point it gets worse, not better."