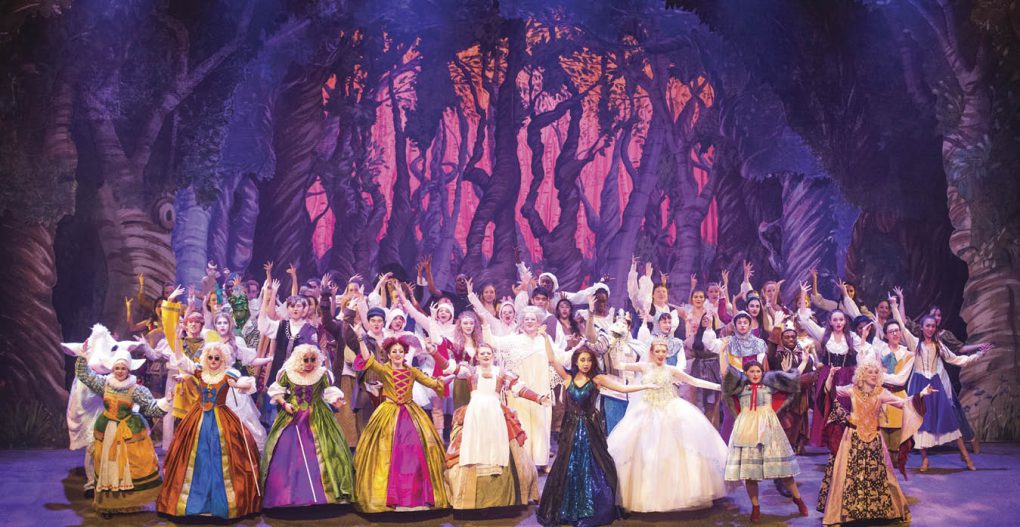 With an evil witch soaring above the audience, Jack rappelling down a steep beanstalk while continuing to sing, and a rotating stage that characters traversed through during their adventures, the Upper School musical "Into the Woods" was a technically and theatrically impressive performance.
The two and a half hour musical, written and composed by Stephen Sondheim and James Lapine, features multiple fairytale characters, including Cinderella, Rapunzel, Jack, and Little Red Riding Hood. A narrator, played by Riley Shaper (10), guides the audience through the exciting and troubling experiences of The Baker, played by Austin Karkowsky (12), and the Baker's Wife, played by Brock Looser (12). In their desperation to have a child, the Baker and his wife are cursed by a witch to obtain a cow as white as milk, a cape as red as blood, hair as yellow as corn, and a slipper as pure as gold to break the curse. Their quest takes them deep into the woods to meet other fairytale characters, each with his or own desperate wishes.
Karkowsky explained, "As Mr. Doran says in rehearsals, 'Act One is about getting what you want, Act Two is learning to live with it'."
"Into the Woods" was directed by Mr. Justin Doran and choreographed by Ms. Krissy Richmond. This is the third collaboration between Mr. Doran and Ms. Richmond. In 2015, their work on "A Chorus Line" received 12 Tommy Tune nominations and four wins. Their 2016 musical, "Hairspray" received 10 nominations and won three. "Into the Woods" was arranged by music director Mr. Chip Colvin.
Shows took place on Feb. 23-26 in the Brown Auditorium, with a special show free to any student on Thursday night. "Into the Woods" was last performed at Kinkaid in 2001, when it was directed by Upper School Dean Mr. Scott Lambert, then the Director of Drama. Sixteen years later, his son, Ashton Lambert (11) portrayed Jack, one of the main characters.
Auditions began before school started in August and rehearsal for cast members began on Jan. 3. The rehearsal schedule was grueling and included days off, like MLK weekend. Different members of the cast were required to attend different dates, but by Feb. 20, the whole cast, principals and ensemble, were brought together for final dress rehearsals.
"Our typical weekly rehearsals (Monday-Thursday) were from 6:00 to 9:00 p.m., and we would rehearse on Saturday and Sunday for five hours each day," explained Jordan Kassab (12), who portrayed Cinderella's stepmother. "Tech week got more hectic with 10-13 hour days on the weekends and five to ten on school days. Practice makes perfect?" Kassab said.
Eloise Detmering (12), who played the role of Jack's Mother, explained, "[Mr. Doran] always gives the note, 'It has to cost you something,' and he isn't just talking about our characters. It costs each and every member of the cast and crew something just to be in the rehearsal room, but that's what makes it worth it."
"Into the Woods" was a technical masterpiece of lighting, sound, and set design. Mr. Sell and the tech crew built many of the onstage set pieces—massive trees framed the stage all the way to the back, creating depth and the impression that the actors were traveling deep into the woods. At various points in the musical, trees, birds, and Rapunzel's tower were projected onto large white panels. During the giant's scene, a huge eye was projected onto the ceiling of the Brown, as if the giant was peering down at everyone inside. In addition to a platform that extended over the orchestra pit and into the audience, a main feature was a rotating platform—which malfunctioned during the show on opening night.
"The turntable broke, and we all panicked a little when we heard that it was down, but then we made the collective decision to not let it throw us off," Detmering said.
The actors met backstage during intermission to hold a quick conference on how they would proceed in the second act without the revolving aspect of the stage.
"For part of the second act, Mr. Sell had to army-crawl backstage where the motor is and work on it while we were on stage," Detmering said. "Mr. Doran and Ms. Richmond couldn't stop talking about how proud they were about how we came together and didn't let it affect us."
For the actors, some of the hardest parts of the show have been mastering the vocals of the complex music.
"Vocally, Sondheim and Lapine have very complicated shows and it can be hard to sing," Karkowsky said. He went on to say, "This show for me isn't a happy dance show."
"My favorite thing to watch is 'Agony' with Evan Rosen and Jervon Monroe. It's probably the funniest song in the show and it's just a ton of fun to watch," Karkowsky said. Detmering agreed, saying, "Jervon Monroe (11) and Evan Rosen (12) are the dynamic duo of princes."