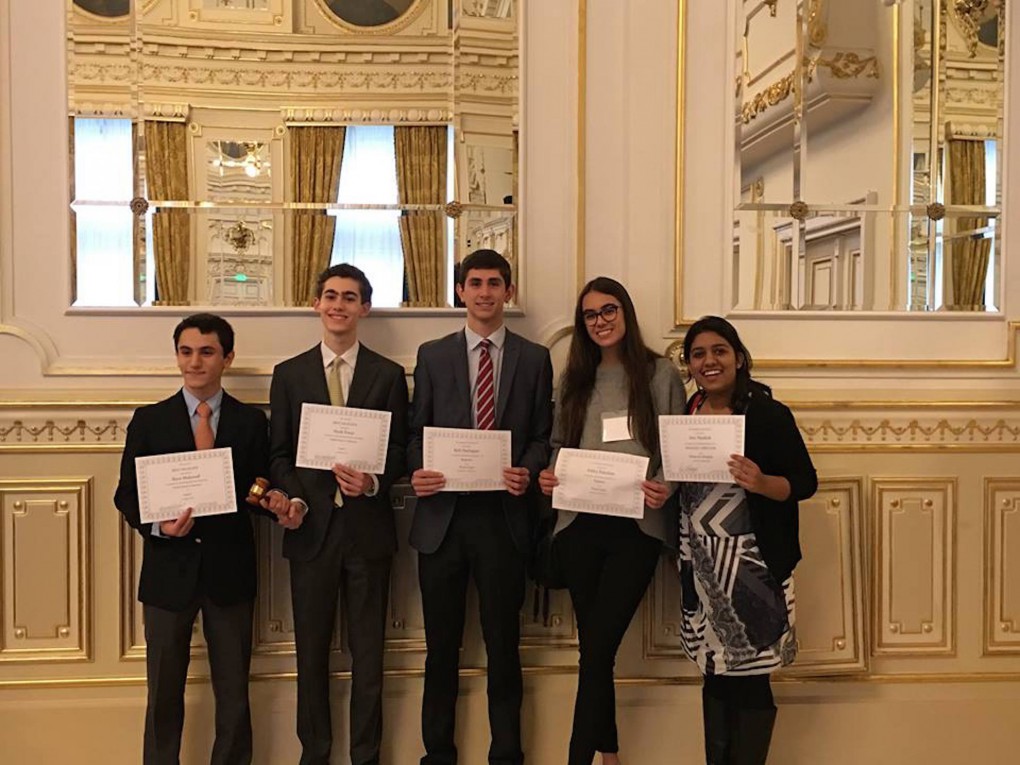 [dropcap]O[/dropcap]n Saturday, Nov. 21, nine Kinkaid students and two teachers began their 6,000 mile, 15-hour journey from Houston, Texas to Vienna, Austria. Juniors Rylan Maksoud, Noah Pintar, Salman Popatia, Anvi Nandish, Marie Parra, Ashley Pakzaban, and myself along with sophomores Natalia Gonzalez-Blanco and Haley Schwager made the trip accompanied by Mrs. Wainright and Ms. Ellis. These students had been preparing weeks in advance for the Yale Model Government Europe (YMGE) Model United Nations conference in Budapest, Hungary.
Just days before the trip was set to go, security concerns were raised due to the terrorist attacks in both Paris, France and Beirut, Lebanon. These concerns, coupled with the Syrian Refugee Crisis taking place in Europe, almost led to the entire trip being cancelled. Luckily, by the time the group reached Budapest, many of the refugees were no longer in the city as Hungary stopped the flow of refugees into the city.
"There were some questions about whether the trip would go off, but we talked to Mr. Loach and the organizers at Yale believed that our safety would not be a problem. The people at Yale worked with the American Embassy to ensure proper safety protocol in case of an attack," said Mrs. Wainright.
Before they arrived in Budapest, the students were able to learn a lot about the history and culture of both Vienna and Bratislava, the capital of Slovakia. In Vienna, the group toured the House of Music, the Belvedere Palace and Museum, St. Stephen's Cathedral, and the Schönbrunn Palace. While in Bratislava, they were able to see the Bratislava Castle and Slovakian Parliament building. Once in Budapest, the students toured the House of Terror, Citadella, and Hungarian Parliament. They were also able to visit many traditional European Christmas markets for hot drinks and shopping.
"My favorite place that we visited was the Belvedere Palace in Vienna. Not only was the building itself incredible, but the museum inside was equally stunning. I just absolutely loved the aesthetic of the whole building," said Ashley Pakzaban (11).
After a six-hour bus ride from Vienna to Budapest, the YMGE conference was set to begin. While many people assume that Model UN is related to modeling, it is actually a way for students to learn about diplomacy, politics, and international relations through a simulation of UN committees. Delegates from each school represent either a country of a specific person in committees and work to debate with other delegates using their country's foreign policy to pass resolutions. The most common committees include the General Assembly committees as well as the UNHCR, ICJ, and NATO.
"MUN helps develop what I call life skills. Students become better public speakers, writers, researchers, problem solvers and collaborators. All of these skills will be necessary in their future careers. Not to mention, MUN allows students to stay up to date with global issues and current events," said Mrs. Wainright.
The conference itself was a big success, boasting over 450 students from at least ten different countries and 30 schools. Every committee passed multiple resolutions on topics including the fight against ISIS, exiting the EU, and the Syrian Refugee Crisis. The most controversial topics included Greece leaving the Eurozone, Bulgaria re-legalizing fracking, and promoting a raise in the minimum wage. Rylan Maksoud and Noah Pinter won best delegate while representing the U.S. in NATO while Ashley Pakzaban and myself were awarded for our work in the Brussels Press Corps committee. Anvi Nandish was also recognized for her work keeping order and writing up resolutions in the House of Commons.
"Communication between Rylan and I was very important during the conference. We were constantly talking to each other and making sure we were on the same page, and without this open dialogue, we would not have been able to succeed," said Pintar (11).
After about 18 hours in committee session, everyone was exhausted and ready to get back to the U.S. There was a very tight connection in Paris, due to the ramped up security at Charles de Gaulle Airport.
"I was SO ready to come back to the U.S. because it is the greatest country in the world, and I especially missed Houston because of the food and weather. I also missed how big and spread out Houston is and the cleaner air—everyone smoked in Europe," said Salman Popatia (11).
The next Model UN conference, ILMUNC, takes place in Philadelphia the weekend of Jan. 28, and is sponsored by UPenn.