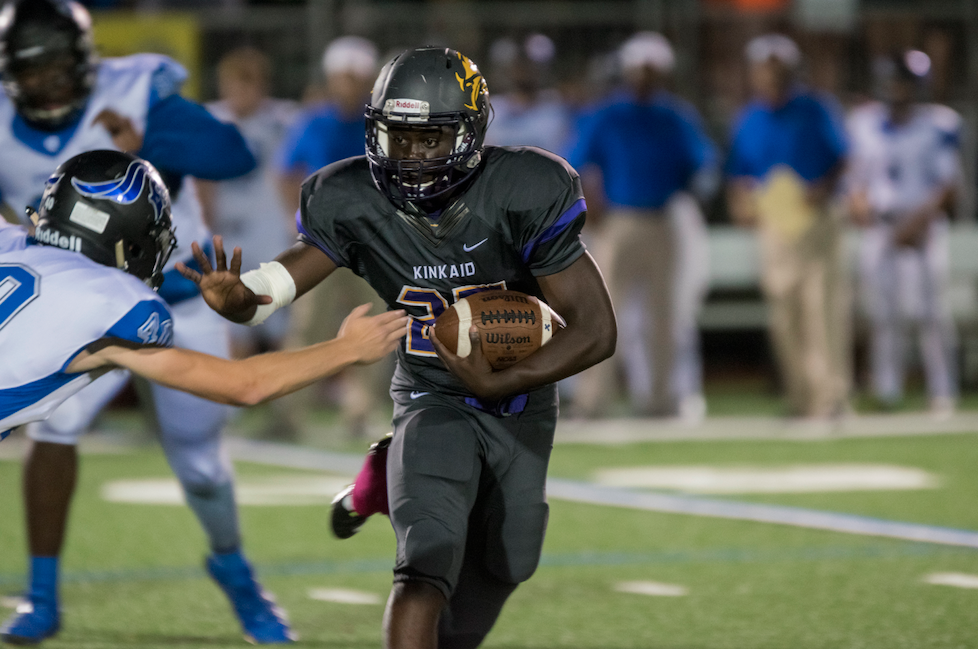 [dropcap]T[/dropcap]here is nothing in the world like a rivalry game. Whether it is a professional or high school game, there is just nothing like it. The anticipation builds weeks in advance and does not stop until the players burst through the tunnel and onto the field. The players always provide that extra effort and intensity, while the fans do their best to motivate their team to victory. The Kinkaid vs. St. John's football rivalry began in 1951 and has been filled with some magical plays and wild endings. The overall series stands at 39 to 25 in favor of the Falcons, and this year's seniors are looking to finish the season with a 3-1 record against the Mavericks and their SPC hopes intact.
This year's matchup features the 5-3 Falcons looking to bounce back after a painful 44-40 loss to the Episcopal School of Dallas (ESD), and the 2-6 Mavericks coming off a 33-31 win against Houston Christian. Captain Rhett Cardwell (12) described the game as a "do or die" for the Falcons, as a win tonight is the only way to keep their playoff dreams alive.
This season has been somewhat of a rollercoaster of a ride for the Falcons. The team has seen impressive victories over Cistercian and Houston Christian, but also suffered tough losses against St. Thomas, Episcopal and ESD. These games have given much needed experience to a young roster that features 12 underclassmen.
"Each season is its own unique journey, and this year has definitely been unique. I have really enjoyed working with this group of young men as [they] have persevered through a lot and stayed positive. Having a winning record is nice too," Coach Nathan Larned said.
After a complete domination of the Mavericks last year in a game that ended 45-0, the young Falcon team will need production from their high powered offense to come out on top tonight. Dual-threat quarterback Michael Goldak (12) has adjusted to the Falcon offense well and has guided the the team to an average of over 33 points per game.
The running game has been vital this season, with the team averaging over 200 rushing yards per game. However, offensive coordinator Kevin Veltri would not commit to relying on the running game against the porous St. John's defense that has ceded an average of over 28 points per game.
"We try to go into every game with a balanced approach in terms of running and passing," Veltri said. He went on to say that the Falcons look at what type of defense they are going up against before deciding how best to attack it, and adjust accordingly throughout the game.
The Falcons' offense also features "Star Athlete of the Week" (sponsored by Star Furniture and KPRC Channel 2), Rhett Cardwell (12). Cardwell has been the backbone of the team this year, providing leadership on both the offensive and defensive sides of the ball. He ranks third on the team in touchdowns (5) and has accumulated over 450 all purpose yards.
Kinkaid also boasts a stingy defense that has held the opposing team to under two scores three times in eight games. They focus on a "do your job" mentality and try to give maximum effort on every down of every possession. Coach Larned described the Maverick's offense as "frustrating to defend" and stated that the defense needs to stay disciplined and patient to make the other team earn every yard. If they can do this, he believes that they should hold the Maverick offense in check.
In such an emotional rivalry game, channeling the energy into a positive effect can be a difficult task. The Falcons are mentally preparing to focus on one play at a time and will rely on the leadership of experienced players to set the tone of the game early on.
"Motivation is fickle. At some point, it will just become another football game and you will have to out-execute your opponent. I like the way our locker room is handled and trust our leadership," stated Coach Larned.
Injuries have also played a major role in both teams' seasons. The Falcons lost John Goettee (11) to a concussion before the season even began, while Kirby Cravens (11), Johnathon Thomas (10), and Spencer Oster (12) have all been injured since the start. The Mavericks have also suffered a key loss in quarterback Wheeler Gibson (11).
All these injuries have forced players to step into new roles and take on more responsibilities. Cardwell and Alex Williams (11) for the Falcons have been two of the players called upon to play both ways. Cardwell stressed that the plethora of injuries has really bonded the team together.
"I think amidst a variety of injuries to our key players, we have become a lot tougher and guys have had to really step up to the challenge," Cardwell said.
The Kinkaid vs St. John's game has produced many memorable games that have gone right down to the wire. However, both sides will be looking to get out to an early lead and keep the momentum going for them. Whichever team is able to set the tone early will have a strong chance to win the game.
"My favorite memory from a Kinkaid vs St. John's game has to be last year when we shut them out 45-0 because it was such a dominant performance. However, the first time I played in Rice Stadium was also very special," said Oster, who will have to cheer his teammates from the sidelines.
Throughout the summer, the Falcons put in countless hours of work preparing for the season with one goal in mind: make it to the SPC Playoffs. They competed in 7 on 7 games and improved their conditioning as well as strength. Now, with their season is hanging in the balance, they are hoping that the extra work will prove its value.
As Coach Larned put it, "We'll be ready."
The game begins at 7:30 p.m. at Rice Stadium, but the pregame tailgate and activities will start around 6:00 p.m.
Stats courtesy of maxpreps.com