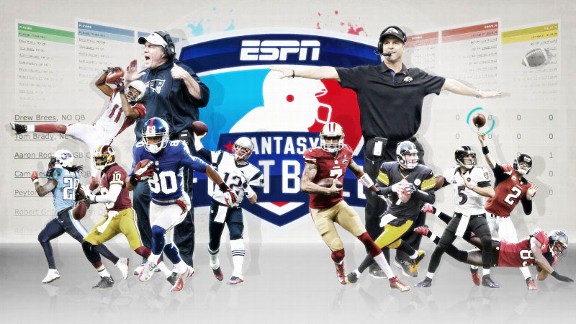 [dropcap]Since[/dropcap] the start of August, millions of sports fanatics have been spotted congregating for meetings that many consider the most important of their week. With them, they bring cases full of magazines and football statistics to prepare for the few hours of high stress competition. No, they are not preparing for the real NFL Draft, but for the start of the fantasy football season.
The fantasy football phenomenon began in 1999 when websites like Yahoo! and CBS began to provide statistics and scoring for free. Since then, the industry has exploded with exponential growth and over 55 million players in 2014. Statistics and Fantasy Sports Analysis (Interim Term class) teacher Ms. Clancy is one of them.
"I like to watch how the statistics based predictions play out over the year. I also like that my fantasy team provides me with a reason to root for teams other than my favorites, the Buffalo Bills and the Texans," Ms. Clancy shared.
This fantasy season looks to be very challenging for players due to pre-season injuries and uncertainties surrounding many players. However, with the help of fantasy veteran Mr. Connor and many Upper School students, we have compiled a guide for this fantasy season:
Overvalued Players:
Andre Johnson—While it is true that wide receiver Andre Johnson will be playing with the best quarterback he's ever been with, Andrew Luck, the former Texans receiver is not what he used to be now at 34. He has never reached double digit touchdowns in his career, and with an already stacked receiving core for Andrew Luck, we would not rely on Andre Johnson this season.
Calvin Johnson—After a disappointing season last year, which saw Johnson struggle to validate his early round selection, he does not seem to be worth his current ADP (average draft position) in the second round again this year. While still capable of putting up big numbers, due to injury concerns as well as a lack of production in recent years, our tip is to steer clear of the former All-Pro receiver.
Drew Brees—The Saints starting quarterback has been on the elite tier for more than half of the last decade. However, it appears he has finally run out of gas. With two of his top receiving options (Jimmy Graham and Kenny Stills) now playing for other teams, the 36-year-old quarterback does not provide enough value to warrant a selection.
DeMarco Murray—OK, this may not be entirely justified. DeMarco Murray was one of the top, if not the best, running backs of the season. He carried the ball a crazy 392 times last season; this fact does not bode well for his future. Many people believe that Chip Kelly will implement a three-running back system like the one in Philadelphia last year. If that is the case, Murray will have a significantly lower number of carries. That, combined with the fact the Eagles offensive line is not as good as Dallas's means DeMarco Murray is not worth the first round selection.
Jimmy Graham—The former Saints tight end was shipped to Seattle in a blockbuster trade this offseason. The All-Pro tight end has suddenly shifted from the pass-heavy New Orleans offensive to a team that prefers to grind out the running game. As he put it in an interview with the Seattle Times, "I will be blocking for 75% of the time." That statement should be just as concerning to you as it is to us.  Although he may be on the receiving end of more touchdowns this season, his value is simply not validated for his current ADP (Average Draft Position) of 25.
Sleepers:
Sam Bradford—The new man in charge of the explosive Philadelphia offense is the former number one pick in the NFL Draft from Oklahoma, Sam Bradford. Despite a few terrible seasons with the St. Louis Rams, the Eagles decided to trade for Bradford; a move that increased his fantasy value.
"I think this will be a big year for Sam Bradford. The Eagles' system has made their starter a top 5-6 QB for the last few years, and if he stays healthy, I think he'll keep that trend alive," predicted Mr. Conner, who has been an avid FF player for over 10 years. With an ADP of 107, Bradford is a high-risk, high-reward player who might just be worth taking.
Melvin Gordon—The rookie running back from Wisconsin University is shaping out to be one of the top fantasy options in terms of value. He will be the primary back for the Chargers, a team that likes to run the ball a lot, and is behind a rejuvenated offensive line that promises to be one of the most powerful in the entire league. If he can run even close to the way he did in college, expect Gordon to be one of the top 10 running backs by the end of the season.
Nelson Agholor—Another rookie to look out for is USC product Nelson Agholor. This guy was one of the fastest rookies and will be getting plenty of playing time with the Eagles in their pass-heavy offense. There should be a lot of opportunities for him to show off his speed and catching abilities with big plays. If he plays to his absolute full potential, Agholor could end up as the next Odell Beckham Jr.
Mark Ingram—Due to a recent injury to C.J. Spiller, Mark Ingram is a player to watch out for. While he does have injury concerns of his own, if Ingram can stay healthy he will be receiving almost all of the carries for a Saints offense without its top two receivers from last season. This makes Ingram quite valuable as he should be available in the third or even fourth round of your draft.
All in all, this is looking to be a very exciting fantasy football season and we wish everyone good luck in their leagues!
Photo from games.espn.go.com